Laurie Fox, Chair, HBA, BSW, MSW, LL.M
Laurie has worked in healthcare for over twenty years, starting as a Social Worker at Hamilton Health Sciences and progressing through diverse roles that have included risk management/patient relations, discharge/transitional care specialist, project management, quality improvement and clinical ethics consultation. Laurie's role as Strategic Lead for the HNHB Behavioural Supports Ontario (BSO) allowed her to bring diverse cross-sector stakeholders together to build new models of care. As Director of Medical Affairs, she supported physician leaders, front-line physicians and residents through multiple initiatives, including physical engagement, physician human resource planning and civility. Laurie has been working at Ontario Health (West), most recently as the Lead for the Capacity, Access and Flow portfolio, focused on the long-term care sector. Additionally, she has consulted for healthcare organizations in strategic planning.
Michael Dwyer, Treasurer, B.Comm, CPA, CMA
Michael's diverse cross-sector experience includes public accounting and the fields of investment, electronics, food and beverage, transportation and logistics and high-tech data collection and distribution. Now semi-retired, his most recent position was as Controller for exactEarth Ltd., a leader in the field of global Automatic Identification Systems (AIS) maritime vessel tracking, located in Cambridge, Ontario. Michael worked closely with the Project Managers who developed global maritime satellite systems. Over his career, he has worked in the private and public sectors for organizations with annual sales ranging from $9 million to $100+ million.
Heather MacNeil, Secretary, BA, BEd
Heather is a results-driven Human Resources professional with over 25 years of progressive corporate experience with Bank of Montreal.  Following her early retirement 12 years ago, she founded her own company and his enjoying being of service as a career and life transition coach and leadership facilitator. A strategic thinker, effective communicator and passionate leader of change, she excels in fast-paced changing work environments, corporately and in an array of charitable and community organizations. Heather has 30 years of experience in the not-for-profit sector. She currently sits on the Board of ART for Cancer Foundation. Her involvement with the provincial (Ontario) and national Alzheimer Societies spanned 10 years, during which she advocated for education, research funding and a national dementia strategy. She was a member of the research committees at both levels as well as ASO's Federation Task Force. She is also an accredited Facet 5 Psychometric Facilitator and holds certificates in Mental Health First Aid and Anxiety Management & Treatment.
Julian Quinton (Past Chair), Director, BA, MBA, Dip. PTM
Julian Quinton is Director of Audit Governance and Reporting for Scotiabank. He has over a decade of experience at the director level with Scotiabank in multiple fields such as communications and reporting, business planning, strategy development, customer experience design and marketing. He also has 20 years of combined experience in performance consulting and employee training, including many years as an instructional designer in the healthcare insurance industry.
Julian completed his MBA and holds a BA Degree (with double majors in Clinical Psychology and Communication), HR Management Diploma and certificates in Management Accounting and Digital Marketing. He is a registered assessor of adult learning (South Africa), licensed for Facet5 personality testing and completed his certification as an employee coach through Horn Consulting Toronto.
Dr. Andria Bianchi, Director, PhD
Dr. Bianchi is a Bioethicist and Clinician-Scientist at the University Health Network in Toronto, Ontario and an Assistant Professor at the Dalla Lana School of Public Health of the University of Toronto.
Andria completed her PhD at the University of Waterloo where her research focused on the ethics of sexual consent and people with dementia. She has presented on this and other topics regarding people with dementia at national and international conferences. Andria is a bioethicist member of the Joint Centre of Bioethics-University of Toronto and serves on the Board of Directors of the Canadian Association of Practicing Healthcare Ethicists. She is also the lead ethics columnist for Canada's healthcare newspaper, Hospital News.
Avinesh Sundar, Director, CPA, CA, CFA
Avinesh is the Assistant Vice-President of Internal Audit at Mackenzie Investments in Toronto, ON. He began his career at Ernst & Young and has held positions within Bank of America Merrill Lynch and BMO Bank of Montreal. Avinesh hold a Bachelor of Commerce Degree from the Rotman School of Management at the University of Toronto. He is currently working on a Master of Business Administration (MBA) from the University of Toronto.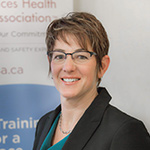 Henrietta Van hulle, Director, RN, BN, MHSM, COHN(c), CRSP, CDMP
Henrietta Van hulle is Vice President of Client Outreach with Ontario's Public Services Health and Safety Association (PSHSA). She has over 25 years experience in the health care sector and occupational health and safety. She has a Bachelors in Nursing degree and a Masters of Health Service Management. She also has her Canadian Registered Safety Professional designation and is a Certified Occupational Health Nurse, an Infection Control Practitioner and Internationally Certified Disability Management Practitioner. She speaks at provincial, national and international conferences on the subject of workplace violence prevention, bullying, disability management and Healthy Work Environments.
Angela Zehr, Director, CPA, CA
Angela is currently Chief Financial Officer at Mohawk College in Hamilton, ON, where she provides leadership, strategic planning, and senior management direction on all aspects of finance.  Angela holds a Bachelor of Commerce, Honours degree from McMaster University. She has more than 20 years of experience in all areas of financial management and began her career in public accounting at KPMG LLP. Angela previously worked in financial reporting for a US public company.
Ciera MacIntosh, Director, Hons B.A., J.D. (Juris Doctor)
Ciera works in Family Law at DeLong Law Professional Corporation in Brantford, Ontario. She was called to the Ontario Bar in June, 2017, after completing her articles with a full-service firm in the Niagara Region. Ciera attended York University to complete her Honours Bachelor's degree in Criminology and French Studies, graduating magna cum laude. After teaching English in France and providing client service in the tech industry, she earned her Juris Doctor degree. While in law school, Ciera was involved in extracurricular activities and gained valuable practical experience, serving as an executive member to the Osgoode Law Italian Canadian Association, the Osgoode Hall French Club and the Osgoode Hall Family Law Association.During her second year, she was selected to act as a Dean's Fellow to first year students in Torts Law. She was also asked to participate in the Anti-Discrimination Intensive Program. As part of this program, she spent a semester working full time as a law student intern at the Human Rights Legal Support Centre. Last year, Ciera's research paper, "A Call for Review of the Assisted Human Reproduction Act," was published in two separate parts in RegQuest.
_____________
If you are interested in serving on the AGE board, contributing your time, skills and expertise to help our mission of enhancing the care of older adults, please email us at info@ageinc.ca